В компании Марвел действует распродажа серверного и сетевого оборудования Lenovo.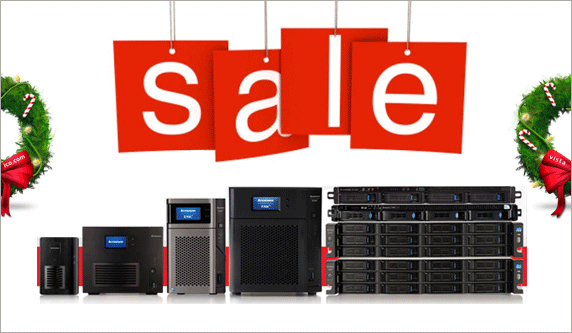 Артикул
Наименование
Цена
См. все артикулы в Marvel B2B
00AJ217
800GB SAS 2.5in MLC G3HS Enterprise SSD
$2 213
00AJ340
IBM 240GB SATA 1.8in MLC Enterprise Value SSD
$215
00AL537
System x3500 M5 Redundant Cooling Kit
$64
00AL538
System x3500 M5 Tower to Rack Conversion Kit
$195
00AR088
5m Fiber Cable (LC)
$5
00D4488
IBM SATA assembling kit for ServeRAID C105 upgrade
$10
00FE673
Express 4GB (1x4GB, 1Rx4, 1.35V) PC3L-12800 CL11 ECC DDR3 1600MHz LP RDIMM 00D5024
$30
00FE677
Express IBM System x 550W High Efficiency Platinum AC Power Supply
$50
00FN128
IBM 3TB 3.5in G2HS 7.2K 6Gbps NL SATA HDD
$171
00MJ097
1Gb iSCSI 4 Port Card
$187
00MY957
Express System x 550W High Efficency Platinum AC Power Supply 00AL533
$68
00NA581
Express IBM 600GB 10K 12Gbps SAS 2.5" G3HS 512e HDD (00NA241)
$277
00NA606
Express IBM 300GB 10K 6Gbps SAS 2.5" G3HS HDD (00AJ096)
$132
00NA626
Express IBM 300GB 15K 6Gbps SAS 2.5" G3HS HDD (00AJ081)
$141
00Y2473
3TB 7,200 rpm 6Gb SAS NL 3.5in HDD
$362
0A89407
ThinkServer RAID 500 Upgrade Key for Advanced RAID
$35
0A89464
ThinkServer RAID 500 Adapter
$162
0C19503
ThinkServer 3.5" 2TB 7.2K Enterprise SATA 6Gbps Hard Drive for TS-Series
$100
0C19507
ThinkServer 1Gbps Ethernet I350-T4 Server Adapter by Intel
$134
32R1860
Nortel Layer 2/3 Copper GbE Switch Module for BladeCenter
$110
44X1907
QLogic(R)8 Gb Intelligent Pass-thru Module for IBM BladeCenter
$895
47C8808
ServeRAID M5100 Series IBM Flex System Flash Kit v2 for x240
$164
4N60A33903
NAS Power Supply for px12-400r/450r, Hot-Swappable
$77
4X20F28576
Lenovo server Power Supply 750W
$125
4XB0F28673
ThinkServer 2.5" 600GB 10K SAS 6Gbps Hard Drive for RS-Series
$151
4XB0G45751
ThinkServer 2.5" 146GB 15K SAS 6Gbps Hard Drive for RS-Series
$85
69Y1899
Intel Xeon Processor E7-8870 10C 2.40GHz 30MB Cache 130W
$400
69Y5681
x3550 M4 ODD Cable
$5
7167Z2T
Сервер Lenovo Flex System x440 Compute Node V2
$35 702
8721UHE
Шасси Lenovo Flex System Enterprise Chassis
$21 371
8731Z33
Flex System Manager Node with embedded 10Gb Virtual Fabric, Xeon 8C E5-2650 95W 2.0GHz/1600MHz/20MB, 8x4GB, 1TB HS 2.5in SATA, 2x200GB 1.8in SATA SSD
$4 414
8737G2G
Flex System x240 2,3GHz 15MB 8GB 0HD
$500
90Y4273
ServeRAID M5100 Series SSD Performance Key for IBM System x
$32
90Y4318
ServeRAID M5100 Series SSD Caching Key for IBM System x
$17
90Y4390
ServeRAID M5115 SAS/SATA Controller for Flex System
$216
90Y4412
ServeRAID M5100 Series Performance Upgrade for IBM Flex System
$88
90Y4447
ServeRAID M5100 Series SSD Caching Enabler for IBM Flex System
$133
94Y5350
Коммутатор Cisco Nexus B22 Fabric Extender for Flex System
$2 096
94Y5355
Коммутатор Cisco Nexus B22 Fabric Extender with FET bundle for Flex System
$5 028
9532ZBV
Flex System x240 M5 Compute Node, Xeon 16C E5-2698v3 2.3GHz/2133MHz/40MB, 1x16GB TruDDR4, O/Bay 2.5in SAS
$2 193
Срок действия предложения ограничен количеством оборудования на складе.